---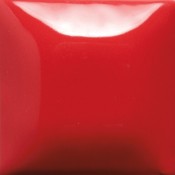 Mayco SC-73 Candy Apple Red Stroke & Coat Glaze
River Craft Ceramics
Mayco Stroke & Coat's unique formulation provides artists endless opportunities with multiple uses and firing ranges including bisque and clay plus alternative firings such as raku, wood and cone 10. Stroke & Coats are food safe and non-toxic.
2 oz.

and 8 oz. 

Squeeze bottle
Fires to a gloss finish without clear glaze
Apply 1 coat for a translucent finish or 2-3 coats for full opacity
Does not move or blend during firing
Liquid color is consistent with fired color
Intermixable with other Stroke & Coat colors for custom shades
Fire to cone 04 for most vibrant colors
Color lightens on a cone 6 fire (3 coats on stoneware body)
Certified AP Non-Toxic and food safe
Manufacturer's Description
Stroke & Coat glazes can be applied to wet or leather hard clay as well as bisque, fired from cone 06 to 10, in oxidation or reduction. Apply for all over coverage or in a painterly style, Stroke & Coats can be the star or play a supporting role in endless glaze combinations. It is the ideal product of choice for the studio, classroom, potter, and fine artists.
Many Stroke & Coat glazes perform well at mid-range (cone 5/6) and higher temperatures (cone 9/10). Darker colors such as red, orange, yellow, blue and green may darken compared to their cone 06 results. Lighter colors such as tan, purple and pink will fade. We recommend testing at your preferred firing temperature prior to use. Cone 6 performance is noted on each color's label.